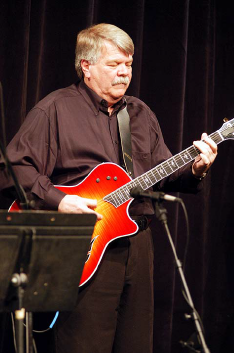 Eddie Becker has been playing in the Washington Metropolitan area since the mid-sixties. Since this time Eddie played extensively in the Washington D.C. club scene during the including the Hayloft Lounge, Rocket Room, Bennie's Rebel Room, Rabbit's Foot, Grog & Tankard, Apple Pie and many other then-famous D.C. night clubs.
During this period, Eddie played with a number of horn-based soul groups including the The Spades and Rainbows, The Midnighters and Gerome and the Good Knights. He also played in a rock band with local rock/blues veterans Steve Smith and Wade Mathews before leaving for Texas.
While living in Houston, Eddie played in a cajun/zydeco group fronted by singer/song writer Gene Billeaudeaux. This experience allowed him to develop and refine his slide and acoustic, country-style guitar playing skills.
In the mid-80s, Eddie hosted an "open mike" at Bosco's in Takoma Park for over four years and met many of the musicians active in the D.C. scene today. Eddie also ran an open mike at Malarkey's in Bethesda with the late Ace Smith. During this time, he performed with Vital Signs playing blues, R&B, and classic rock. Vital Signs was an opening act for Johnny Winter and played a regular gig at Club Soda in Washington, D.C. until its closing. Eddie also returned to his soul and funk roots with a horn group called Soul Twist.
Eddie's guitar style incorporates many diverse influences including 60ís soul music, rhythm & blues, Chicago-style blues, rock and boogie. This diverse influence of musical styles has allowed him to work with many different musicians and bands and perform as a session guitarist for Roar Productions recording studios in Columbia, MD during the 90's.